Air Travel and Airport Tips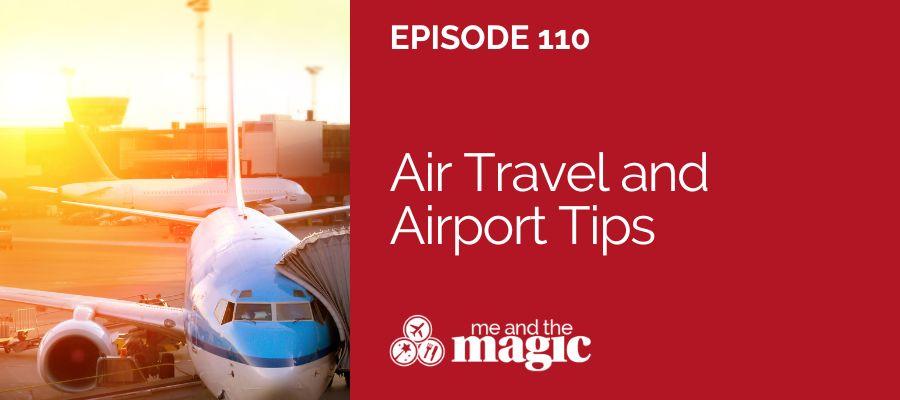 In this episode…
Air travel issues have been in the news a lot lately. We are going deep into everything  you need to know to have the best experience possible in airports and with air travel overall. Discover the best airport tips when you need to quickly go through security, when your flight is delayed, and more. We also share air travel tips, including the best time of day to fly to avoid delays, and what we recommend to always bring on a plane with you.
Thanks to Angela Batista, a worldwide traveler and a travel advisor with MEI-Travel and Mouse Fan Travel, for being on this episode and sharing her travel expertise. Connect with Angela Batista at AdventuresByAngela.com, on Facebook and on Instagram.
Resources for Air Travel and Airport Tips
Samantha Brown just released an excellent article, My Ultimate Airport Survival Guide. 
Learn more about the Clear Reserve program.
Check out Timeshifter's Jet Lag app. 
Frommers shared the The 10 Worst Airports in the U.S.
Join Our Community
Join the Me and the Magic Facebook community to share your love of solo travel, Disney travel, and more with new friends. Plus, share your thoughts and questions on this episode with the community!
Connect with Me
Is there a topic you'd like us to discuss? Email Amanda at amanda@meandthemagic.com.
Are you on Instagram? Follow Me and the Magic to see the latest posts, stories, and IGTV.
Subscribe to the Me and the Magic weekly newsletter for exclusive content, including solo travel tips!
Me and the Magic has voicemail! Leave a voicemail or text to 1-347-74MAGIC (1-347-746-2442). Share your thoughts about this episode, a future episode topic idea, or just say hi!
If you are enjoying the podcast, I'd greatly appreciate it if you could rate and review it on Apple Podcasts. The reviews help other people find this podcast.
Online Shop
Buy fun and magical travel and pop culture shirts, including the recently released Loungewear: Parks Edition and more, at our online shop!