What to Do Before Your Cruise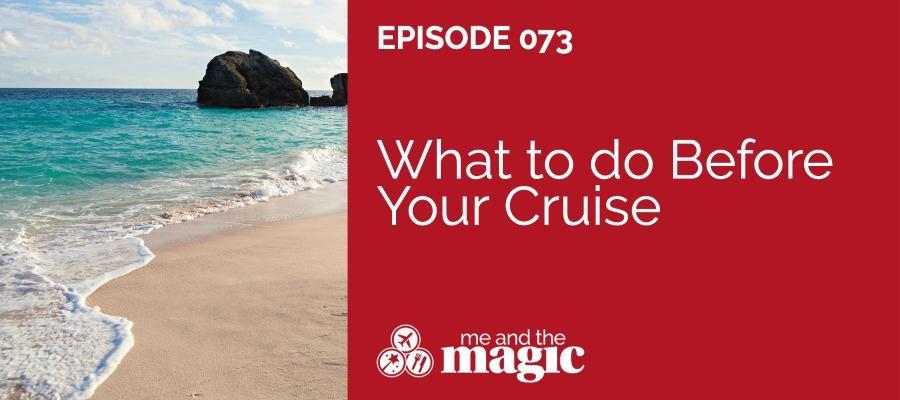 In this episode…
My friend and I recently sailed for 4 nights on the Disney Wish! Before we dish on the Wish, we are sharing what to do before your cruise, including our the fun adventures we had before our cruise out of Port Canaveral. Plus, we share what you must do before you check in at the terminal.
Resources
In Episode 051, I shared the top 10 planning tips for your next Disney cruise.
Disney Cruise Line has suggestions on what to do around the Port Canaveral area before or after your cruise.
We really enjoyed our stay at the Hilton Garden Inn Cocoa Beach Oceanfront.
Cruise with Us!
In Episode 069, we share all the details of our first group cruise with the Disney Travel for All community! We will be sailing on the Disney Fantasy, November 11-18, 2023, for a Very Merrytime 7-night Eastern Caribbean sailing with stops at Tortola (British Virgin Islands), St. Thomas (US Virgin Islands), and Disney's Castaway Cay (Bahamas).
Join us for this special cruise! Go to DisneyTravelforAll.com/Fantasy2023 for all the details, and request a free quote.
You must book with the official group to be part of all the group activities (and surprises!).
Join Our Community
Join the Me and the Magic Facebook community to share your love of solo travel, Disney travel, and more with new friends. Plus, share your thoughts and questions on this episode with the community!
Connect with Me
Is there a topic you'd like us to discuss? Email Amanda at amanda@meandthemagic.com.
Are you on Instagram? Follow Me and the Magic to see the latest posts, stories, and IGTV.
Subscribe to the Me and the Magic weekly newsletter for exclusive content, including solo travel tips!
Me and the Magic has voicemail! Leave a voicemail or text to 1-347-74MAGIC (1-347-746-2442). Share your thoughts about this episode, a future episode topic idea, or just say hi!
If you are enjoying the podcast, I'd greatly appreciate it if you could rate and review it on Apple Podcasts. The reviews help other people find this podcast.
Upcoming Events
We have two upcoming group trips! Join us for one, or both, of these amazing vacations!
In November 2023, we will be sailing on the Disney Fantasy on a Very Merrytime 7-night Eastern Caribbean cruise! Click here to learn more and request a free quote!
In September 2024, we will be going on a very special Adventures by Disney vacation to Southern California and Disneyland for 6 days / 5 nights! Click here to read more details and request a free quote!
Online Shop
Buy fun and magical travel and pop culture shirts, including the recently released Loungewear: Parks Edition and more, at our online shop!