Plan a Trip to Minneapolis and St. Paul, Minnesota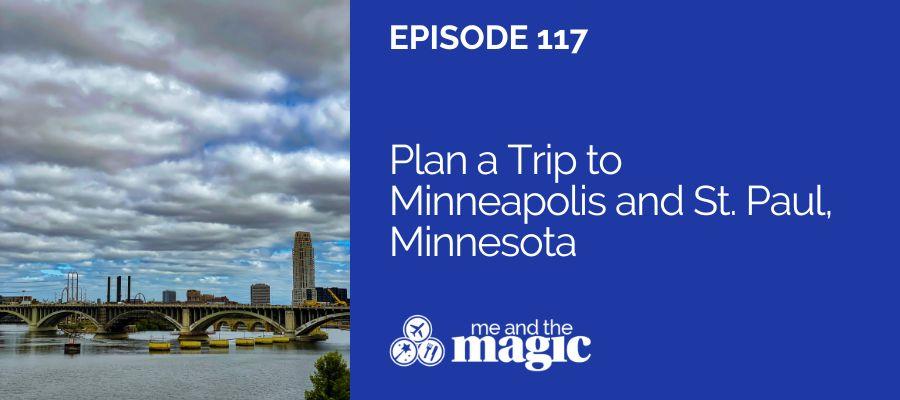 Do you want to plan a trip to Minneapolis and St. Paul, Minnesota? This travel guide to the Twin Cities will help both first-time visitors and returning travelers plan a wonderful visit to this area of Minnesota.
In this episode, Angie Robinson is back, this time wearing her hat as a Minnesotan, as we share all the things about Minneapolis and St. Paul. We answer your most pressing questions about the Twin Cities, including:
What is famous about the Twin Cities?
What is the best month to visit Minneapolis?
What are the foods Minneapolis is famous for?
What is there to do in Minneapolis and St. Paul.
Is downtown Minneapolis safe for solo travelers?
What are the best solo activities in the Twin Cities?
Outside of the Minneapolis-St. Paul area, learn what to expect when you visit the Mall of America, why you should spend a day in Stillwater, and more.
Plus, we share fun facts about Minnesota and unique items and sayings that make this area so special.
Resources
Amanda highly recommends the Hewing Hotel in downtown Minneapolis.
Visit Paisley Park, Prince's home and studio near MInneapolis.
Learn more about the Minnesota State Fair.
Plan a visit to the Mall of America!
Connect with Angie
Connect with Angie Robinson on Facebook or Instagram, and check out Angie's website to see Angie's many offerings as a life and leadership coach. Also, listen to The Practically Perfect Leader Podcast (on Apple Podcasts and Spotify).
Listen to the Me and the Magic podcast Episode 068: Planning for an Epic Road Trip, to hear more about Angie's road trips around her home state of Minnesota.
Join Our Community
Join the Me and the Magic Facebook community to share your love of solo travel, Disney travel, and more with new friends. Plus, share your thoughts and questions on this episode with the community!
Connect with Me
Is there a topic you'd like us to discuss? Email Amanda at amanda@meandthemagic.com.
Are you on Instagram? Follow Me and the Magic to see the latest posts, stories, and IGTV.
Subscribe to the Me and the Magic weekly newsletter for exclusive content, including solo travel tips!
Me and the Magic has voicemail! Leave a voicemail or text to 1-347-74MAGIC (1-347-746-2442). Share your thoughts about this episode, a future episode topic idea, or just say hi!
If you are enjoying the podcast, I'd greatly appreciate it if you could rate and review it on Apple Podcasts. The reviews help other people find this podcast.
Online Shop
Buy fun and magical travel and pop culture shirts, including the recently released Loungewear: Parks Edition and more, at our online shop!