The Ultimate Disney Cruise Checklist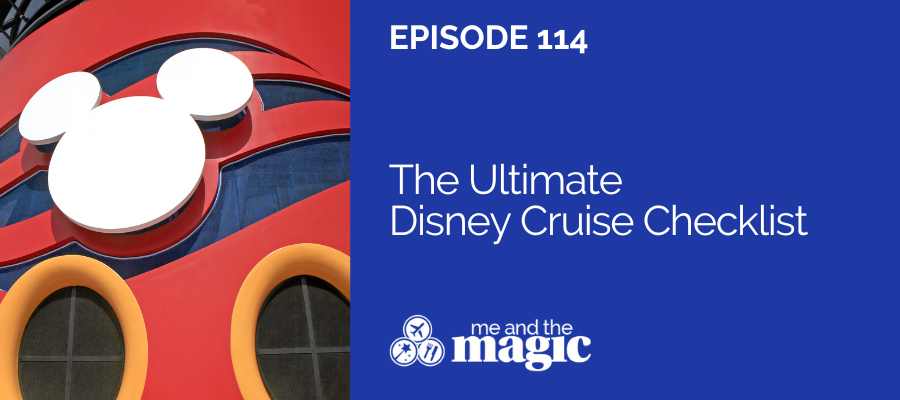 "Travel is fatal to prejudice, bigotry, and narrow mindedness, and many of our people need it sorely on these accounts. Broad, wholesome, charitable views of men and things cannot be acquired by vegetating in one's little corner of the earth all one's lifetime."
– Mark Twain
Travel connects us all, and a Disney cruise is one of my favorite ways to travel! Whether you are sailing solo, with friends or family, there's a lot that goes into planning a Disney cruise. Whether it's your first or fifth Disney cruise, a planning checklist is always a helpful way to take the stress out of planning and to make sure you aren't missing any important details.
This ultimate Disney Cruise checklist will help you plan your next cruise vacation, so that you know when you need to be ready for booking activities and excursions. Listen as Amanda shares her lessons learned for the online check-in process that she's done several times on her Disney cruises. 
Scroll down for links to resources mentioned in this episode, as well as a timeline of topics covered in this episode.
Download the Ultimate Disney Cruise Checklist
This Disney Cruise planning checklist breaks down the timeline and the steps for everything from booking activities to online check-in. Download your free Disney Cruise planning checklist PDF.
Resources for your next Disney Cruise 
LIsten to previous Me and the Magic podcast episodes about planning for a Disney cruise:
Episode 073: What to Do Before Your Cruise
Episode 051: Top 10 Planning Tips for a Disney Cruise
Episode 005: Planning a Disney Cruise – Solo and Family
Look up your departure port with all relevant information on the Disney Cruise Line ground transportation page.
Episode Timeline
[06:31] Breakdown of Disney Cruise LIne's Castaway Club levels, as well as first-time Disney cruisers and concierge cruisers.
[08:31] What you need to do before your booking window opens for activities and excursions.
[14:17] How to book activities and excursions, and when your booking window opens.
[20:03] Planning travel to and from the ports.
[21:53] Everything you need to know about the online check-in process.
[31:11] Final month of planning before your cruise.
[33:30] What to do the day before and the day of your cruise.
Join Our Community
Join the Me and the Magic Facebook community to share your love of solo travel, Disney travel, and more with new friends. Plus, share your thoughts and questions on this episode with the community!
Connect with Me
Is there a topic you'd like us to discuss? Email Amanda at amanda@meandthemagic.com.
Are you on Instagram? Follow Me and the Magic to see the latest posts, stories, and IGTV.
Subscribe to the Me and the Magic weekly newsletter for exclusive content, including solo travel tips!
Me and the Magic has voicemail! Leave a voicemail or text to 1-347-74MAGIC (1-347-746-2442). Share your thoughts about this episode, a future episode topic idea, or just say hi!
If you are enjoying the podcast, I'd greatly appreciate it if you could rate and review it on Apple Podcasts. The reviews help other people find this podcast.
Online Shop
Buy fun and magical travel and pop culture shirts, including the recently released Loungewear: Parks Edition and more, at our online shop!