The Ultimate Disney Cruise Packing List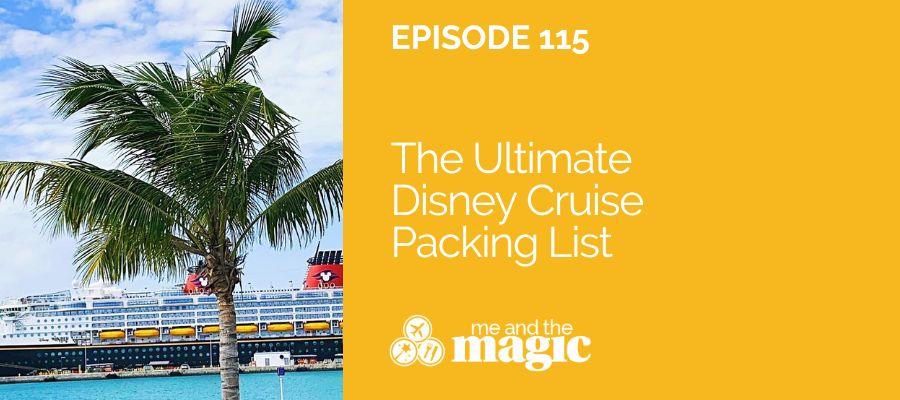 Are you going on a Disney cruise, but you're not sure what to pack? Join Amanda as she shares the ultimate Disney cruise packing list, cultivated from lessons learned on her several Disney cruises and from interviewing cruise experts and others who love sailing on Disney cruises.
What makes an ultimate Disney cruise packing list?
Start with experience and lessons learned from several Disney cruises, and add in interviews with cruise experts and other Disney cruise enthusiasts. Wrap all that up with helping others plan their Disney cruises, and there you have it… the ultimate Disney cruise packing list! Amanda covers what you need for packing supplies. Then, it's on to the essentials you will need for travel, including travel documents and why you will want to bring smaller bills for tips.
Outfits and accessories are where you can have a lot of fun on your Disney cruise, and Amanda covers it all, including themed events and why you may want to dress up. Of course, you'll need toiletries and any medications to stay healthy and feel great on your cruise. Amanda also shares what types of food and drinks are allowed to carry on to your cruise.
Of course, remember your electronics and chargers to stay connected. You can opt to purchase a Wifi package on board, but at a minimum you'll want a smartphone to use the Disney Cruise Navigator app. This app will have all your cruise info, including the daily schedule, your main dining room restaurant rotation, restaurant menus, and a handy chat feature.
If you're going on a Disney cruise, embrace your Disney side! Bring Disney pins to trade. Decorate your stateroom door with magnets. Meet characters and get their autographs in your autograph book. Join gift exchange groups and participate in a fish extender exchange, magnet exchange, and more.
There are many more items you'll need for your cruise. Listen and then let Amanda know if you have any items you must pack for your cruises that she needs to add to the list!
Amanda's Favorite Items to Bring on Your Next Disney Cruise
Read about Amanda's favorites that she packs for every cruise in this in-depth article about the ultimate Disney Cruise packing list.
Get your free Disney Cruise Packing List
Download your free Disney Cruise packing list from Google sheets here.
Plan for Your Next Disney Cruise with This Checklist
If you missed Episode 114 about the ultimate Disney Cruise planning checklist, be sure to check that episode out, along with all other Disney Cruise episodes on the Me and the Magic podcast.
Amanda's Disney Cruise History
Amanda's love of Disney cruises started in January 2018 with her first Disney cruise with 2 friends on the Disney Dream. That 3-night cruise was amazing but way too short, so Amanda followed that up with two 7-night sailings on the Disney Fantasy and the Disney Wonder. The Disney Fantasy cruise was a Very Merrytime sailing and also Amanda's first solo cruise. After the pause in cruises due to COVID, Amanda sailed on the Disney Magic on a 5-night Marvel Day at Sea cruise. Then, Amanda sailed twice on the Disney Wish, with the second sailing being a Very Merrytime cruise. Next up will be the Me and the Magic group cruise on the Disney Fantasy in November 2023, and then the Disney Treasure may be the next sailing!
Join Our Community
Join the Me and the Magic Facebook community to share your love of solo travel, Disney travel, and more with new friends. Plus, share your thoughts and questions on this episode with the community!
Connect with Me
Is there a topic you'd like us to discuss? Email Amanda at amanda@meandthemagic.com.
Are you on Instagram? Follow Me and the Magic to see the latest posts, stories, and IGTV.
Subscribe to the Me and the Magic weekly newsletter for exclusive content, including solo travel tips!
Me and the Magic has voicemail! Leave a voicemail or text to 1-347-74MAGIC (1-347-746-2442). Share your thoughts about this episode, a future episode topic idea, or just say hi!
If you are enjoying the podcast, I'd greatly appreciate it if you could rate and review it on Apple Podcasts. The reviews help other people find this podcast.
Online Shop
Buy fun and magical travel and pop culture shirts, including the recently released Loungewear: Parks Edition and more, at our online shop!